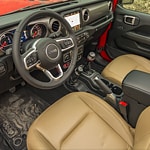 A big addition to the 2020 Jeep Wrangler is the fact that it has the Freedom Top hardtop that is easy to lower and get out of the way. People like to take the top down on their Jeeps and go wherever they want to go in style. This Jeep just happens to make it a lot easier to do than most.
There are a number of wheel options on the 2020 Jeep Wrangler to add to the level of customization that someone has. It runs on 17-inch wheels, but the finish and design are up to you.
Enjoy this off-the-road machine and get out on your next great adventure. There is no better vehicle to explore the wilderness with than a Jeep. It is particularly in style now that so many people are restricted from doing indoor activities. Enjoy the opportunity to explore the wild and make the most of that experience.