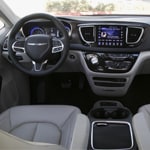 Chrysler Pacifica is a vehicle that has an incredible exterior and interior. It has also been designed to perform. It can get a maximum of 28 MPG and is built to last for a long time. The performance features are another reason that you should consider choosing this vehicle.
Many of us have felt like we were losing control of their vehicle. It will be easier for you to maintain control of the vehicle if you have standard electronic stability control. It will apply throttle and selective braking. It will also prevent the wheels from spinning too quickly.
Trailer towing is another one of the features that you can find on the Chrysler Pacifica. You can hook up your trailer and tow up to 3,500 pounds. It will be easier for you to transport the things that you have. You have the option of test driving the vehicle. Visit our dealership today.